Sears Credit Card
Sears Credit Card
Sears offers three credit cards that offer discounts on purchases, special financing, offers, coupons and added shopping conveniences at Sears and partner stores. All three cards are issued through Citi Bank. The two most popular Sears credit cards are the Sears Card ® and the Sears MasterCard ®. These two cards are for general consumer use. The third option is the Sears Home Improvement Account which is designed for larger purchases and installations in your home. All three cards are available with no annual fee and all provide total consumer protection from theft and unauthorized purchases.

Since the cards are issued by Citi, you can manage your Sears credit cards online with Citi Bank's easy to use account management, online payments, paperless statements and alerts.


Sears Card



When you sign up for a Sears charge account you have the choice of saving 15% on your first purchase or paying 0% interest if the balance is paid within 18 months. This is a great way to save money, either on the purchase price or on interest charges, but be aware that if you miss a minimum monthly payment all the savings will be removed retroactively. In other words, if you have been making your minimum payments for 16 months and you miss the 17th month you'll have interest charges from the previous 16 months added to your balance. When using credit cards that offer sign up bonuses like this you'll really come out ahead as long as you know the rules! You should plan on using the card only when it benefits you. If you do incur interest rates you will find them to be competitive with other credit cards, which is up to 28% APR depending on your credit score. By undertanding the card's rules you'll get free financing, and pay no interest and get discounts on purchases.

Sears cardholders are entitled to special financing promotions at Sears, Kmart and other partners. You'll have access to special promotions such as an extra 5% off electronics or mattresses with no interest charges. The special financing promotions change all the time and are quite good. In addition, you'll earn points in the 'Shop Your Way' program when using your card. These Shop Your Way points can be redeemed for products, prizes and are also automatic entries into ongoing sweepstakes and giveaways.

One of the most convenient benefits of the Sears Card is that if you're at Sears or Kmart or other retail partners and you forget your card, you can still shop with your account with just your photo identification.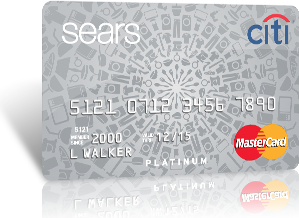 Sears MasterCard
This card offers the same features and benefits as the Sears Card with the added advantage that it can be used anywhere that MasterCard is accepted. In addition, you can take cash advances from the card for a slightly higher interest rate than your normal purchases. You can transfer balances (minimum $10) from other credit cards to your Sears MasterCard. There are some fees that you should be aware of: international purchases have a 3% fee for currency exchange and balance transfers have a 5% fee. Like the Sears Card, Sears MasterCard applications are judged on the credit score, income and debt to income ratio of the applicant. You should always request your free credit report before you apply for a credit card.




Sears Home Improvement Account

This card makes it easier to tackle high value installation projects that improve the value of your home. Sears offers a wide variety of home improvement products along with the professional installation services team to get the job done for you. Whether it's new doors, siding, heating and air conditioning, windows or a brand new kitchen Sears makes it easy to finance the whole job with one card. Unlike the other two cards, you can only apply for the Home Improvement card over the phone at 1-800-469-4663.